What you can expect on your first driving lesson.
You should bring the following on your first and future lessons.
Your photo card driving licence and counterpart(As of June 2015 GB licences don't have a paper counterpart. NI licences are still issued with one).
Glasses or contacts lenses if required. You must be able to read a car number plate at a minimum distance of 20 metres.
Eyesight Rules.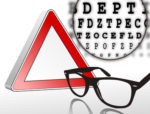 For a rough online eye check try Vutest.
If you have any concerns about your eyesight being up to the legal requirement for driving then consider visiting an optician prior to the lesson.
A comfortable pair of shoes suitable for driving; no flip flops or high heels.
Comfortable clothing
Any payment if required
You may want to prepare for the lesson before hand by:
Looking at The Cockpit Drill and Safety Checks .
Reading the highway code, particularly rules 99-102 which are relevant to the first lesson.
Familiarise yourself with the various dashboard warning lights and control symbols.
Meet your driving instructor
After your instructor has introduced themselves you will take the passenger seat before being driven to a suitable training area nearby; you will not be 'thrown in at the deep end'. Whilst driving to the nursery area your instructor may ask about any relevant experience and demonstrate the use of some controls.
Naturally you might feel a little nervous or anxious, even excited at the prospect of driving for the first time; all perfectly normal reactions. Remember, your instructor will be there at every step to help guide you and keep you safe.
At the training area
Once at the training area, your instructor will check your licence and do a quick eyesight check to ensure you're legally able to drive before swapping seats, then your journey begins; enjoy!
In the Driving Seat
Once in the driving seat you will learn how to adjust your seating position for comfort and to allow safe control of the vehicle followed by an explanation of the main controls and their use. You may be surprised how much you already know; feel free to ask any questions or to go over any points you have not understood or may want more detail on.
Time permitting you will have an opportunity to get the car moving with guided help and talk through from your instructor. With a one hour lesson you may get to move a few times, if longer than an hour there will a chance develop the moving off and stopping with the introduction of the next lesson: Move off and Stop.
Read more detail about the first lesson in The Cockpit Drill and Safety Checks.